. . . . . . . . . . . . . . . . . . . . . . .
sewing
!
That makes me really, really happy. See, I enjoy sewing, but am not practicedly good at it, and so to take time to clear a surface, drag out supplies, FIND A PATTERN(accompanied by read the pattern, cut the pattern, mark the pattern, then FOLLOW the pattern--eek!), and ignore other responsibilities for a few hours is really not something I do often.
Yesterday, The Redhead asked for a holiday dress for Ruthie. I thought that sounded reasonable. Nothing too fancy. I had fabric she liked. We just needed a SIMPLE pattern.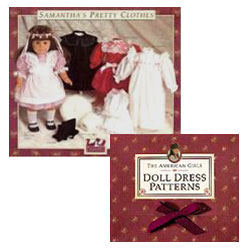 Now. We already OWN some of these patterns, and I didn't drag them out of their box! I used these from the site because they were printable in PDF and I could just pick the pages I wanted to print, cut, and dispose of--if so decided--without tiny pieces to corral. Convenient! We settled on Samantha's party dress--the red one--because it is SIMPLE, right! :-)
A-HEM! Right.
Have you ever heard of "puff sleeves"?
Perhaps a certain redhead from a series of cherished girlhood novels comes to mind? Anne-with-an-E, perhaps?
You will remember that Anne wanted a dress with PUFF sleeves and Marilla REFUSED because they wasted fabric.(Noticing a redhead thread in this subject, too, btw!)
I now contest that the sleeves and the PUFFS were the issue, rather than the fabric. We will just say that getting those gathers RIGHT was a challenge--THREE times. Yes. I made a two-sleeved-dress' sleeves THREE times.
That's because the first time had to be done, ripped out, and re-done.
But it was FUN. And when the bodice and sleeves were finished, I was CHARMED.
The little ivory lace overlay(made with lace from my grandmother's sewing kit) was so SWEET!
So this morning I did the skirt. Talk about gathers! Gathers for days and days and days. I am SO GLAD this was SMALL and not human-sized!
It was fun to see it coming together on the machine:
Ruthie tried it on, and I think she likes it:
The Redhead is pleased. Mission accomplished.
Now J wants one too. *sigh*
She's got to pick fabric first. That may give me a few days. Thinking about some roman shades for the dining area, while the machine is already out. . . .
Happy crafting!


~april