I thought in the name of killing two birds with one stone(a figure of speech that is odd to use in a house with FIVE resident feathered critters!), I would write down just WHAT my kids are using as a backbone to their school time this year. It will help ME to see it in writing, having it on the blog will be hopefully a place I won't LOSE my list, and perhaps someone will find it interesting or maybe even helpful.
We start our new school year this month. Our state requires 180 days and a letter of intent until high school, so it's easy to keep up with requirements. What is NOT so easy(as any homeschool mom can avow), is FEELING like you've done enough. I have been using the time since Christmas to do some much-needed planning and laying out of systems--things that are very difficult for me to put together, for some reason. I find it is necessary to keep everyone contributing well to the good of our family's life, otherwise any structure would simply go out the window(and often does despite my longings and best efforts contrariwise *sigh*).
Let's see; I have one in 8th grade, 6th, 5th, and 1st this year!
For writing, C is enrolled in an
Institute for Excellence in Writing
course through
Veritas Press Scholars Academy
, and has been working on it since September. This has blessed our family immensely, as she has a GIFT for words, and a strong stripe of procrastination and stubbornness(ahem! like her mom!). This combination made attempting to teach her to write quite the showdown anytime I tried. Result? Give up! Keep the peace! She has been really challenged by her VPSA online course, and her father and I have LOVED the results. Definitely worth the hefty price tag in this case. I am doing random language arts assignments(mostly from the
Beyond FIAR
books) with the other two girls--hoping to find something that will work well on a more consistent basis.
Math for all three girls is now
Teaching Textbooks
.
Again, the price tag is hefty, but to have the little voice on the computer teaching math FOR ME is so very worth it--my husband and I have three English degrees between the two of us--as the t-shirt says, I'm an English major; YOU do the Math! So far T.T. has done an excellent job for us.
The Boy will be using
Math Mammoth
. I like the print-out-what-you-need aspect(great to use for
workboxes
!), and I find the pages are just colorful enough to be interesting without being distracting.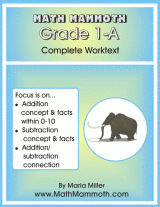 Grammar will be facilitated by
Sonlight Grammar 5
.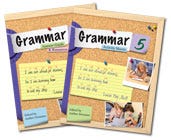 This is a good program for older children who already have a firm grasp of parts of speech. It does a lot of review, but the kids are looking at actual passages of literature, rather than canned sentences. That appeals to my literary side!
C and J will both do this one. The Redhead will be doing daily worksheets from a
workbook
I picked up at the teacher supply store. We had tried Daily Grams and Easy Grammar, but she found the intensely printed black and white pages daunting. This one is colorful, at least.
Vocabulary, C will be in
Wordly Wise
book 5, while J and the Redhead will be in book 1. I find the exercises quite challenging! I will also be testing the girls on these words for spelling.
Science will be
Noeo Biology II
for the younger three kids. The program itself is rich enough in both information and interesting experiments, without being overly hands-on, but it does use Usborne books, which does not thrill me, as I find them overly evolutionary AND hard to read. I do think that the assignments will be "just enough" and will work well with a center and our new workbox system, though.
History is where we have the most questioning and wiggle room. I am looking at Pandia Press'
History Odyssey--Modern Times Level One.
Again, Usborne surfaces as a primary spine, but it also uses
Story of the World
, so I feel like it will be rich enough, without too many projects! I had hoped to do a year of straight American History this year, but the company I had wanted to use doesn't have the curriculum available till mid-February, and I need to get started sooner than later.
Also, the History Odyssey will allow me to meet once a week and work alongside a friend so we can do "co-op" one day a week with history, science, and art. In addition to History Odyssey, we will be adding reading from American History
sources
and some activities from
Beyond Five in a Row volume 1.
Art will be (at this point)mostly using the
Picturing America
materials. Since we will be heavy on American History this year, I thought the emphasis on American art would be appropriate. This material is written for classroom use, but I like that it is also multi-level by age, so it is easy to tweak for a homeschool.
Let's see. . .Math, Grammar, History, Art, Science, is that it? I am sure there's more, but that is PLENTY to get started right away! I hope to add in either Latin or Greek this year, in earnest. We will also be doing scripture memory
Simply Charlotte Mason
style. I love their box system.
Add in all the handcrafts, cooking, artistic pursuits and books that get read around here, and I think it looks like a pretty rich time!
Hope you enjoyed my little list. Feel free to ask questions!
~april